Jewelry Diamond Tester Pen and Moissanite Tester Pen, LED Diamond Detector Selector, Gems Stone Hardness Test Tool Diamond Testers
Original price
$9.18
-
Original price
$21.58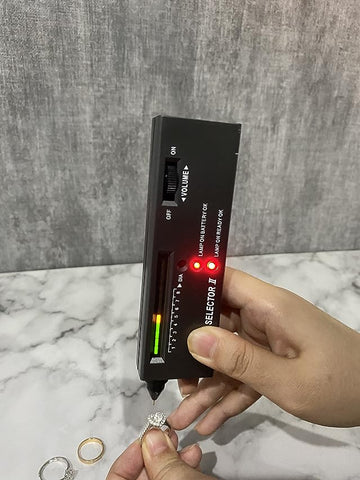 Color: Black / Grey

Power Source: Battery Powered
Batteries: 1 9V batteries required. (excluded)
Product Dimensions: 10.24 x 2.36 x 1.38 inches x 2pcs
High Precision Diamond Tester: The professional diamond dial will indicate true or fake diamonds, LCD monitors and LED indicators. Compared to the first generation, its sensitivity and precision have been improved considerably.
Portable Design: Diamond Selector II is equipped with a PU bag and a small test tray to hold loose stones. Designed for rapid, accurate and safe diamond testing. Through non-destructive testing, the operation is simple and precise. The tester is lightweight, compact (size of credit card) and easy to transport.

Small Test Platform: This tester is equipped with a PU housing and a small test platform for repairing loose stones. Simple calibration of precious stones of all sizes is easy for beginners.In order to let you carry it better, we have a special leather case storage bag! Suitable for carrying when going out for appraisal.
Professional Test: If the stone is a real diamond, a green indicator will be displayed. The metal alarm function emits a continuous beep when the user accidentally touches the metal instead of the stone.
Versatile: The tester offers a highly compact design that is ideal for buying jewelry, buying / exchanging diamonds, selling real estate, auctions, etc. The cost of Diamond Selector II is not even a fraction of the cost of diamonds, but it can help you feel better knowing that you are buying real diamonds instead of fakes.
Product Description

Features:
Lightweight and compact in size, easy and convenient to carry.

Diamond Selector II can help you to distinguish whether your diamond is real or fake.
Diamond Selector II is equipped with a PU bag and small testing tray for holding loose stones.
Green indicator will be showed on Diamond Selector II if the stone is a real diamond. It will make continuous buzzing sound when user accidentally touches metal rather than stone.
Moissanite Tester is a matching instrument with the Diamond Selector II. It is only used for the distinction of colorless Moissanite.
Non-destructive testing, simple and accurate operation, low power consumption, low battery alarm (red light indication) for Moissanite Tester.
After 10 minutes' use of Moissanite Tester, the power indicator light (green light is automatically turned off) and long beep sounds will alert the user to turn off the instrument.
Precautions
Don't wear gloves

Don't detect metal

Best to measure in no wind conditions

The operating temperature is within the range of 10-35 degrees Celsius, and the humidity is below 80%

When testing diamond, your right index finger must keep touching the metal panel on the back of the tester.
Note for Moissanite Tester:
The probe of this instrument is very sensitive. It should wear the PU bag to be protected when not in use.
Low power battery should be replaced in real time to ensure accurate detection.
Take out the battery if it will not be used for a long time.
For correct testing, it is recommended that you take a calibration adjustment after annual maintenance.
Package Content 
1 * Diamond Selector II

1 * Moissanite Tester
2 * Manuals

2 * Trays



Use Procedure
Install Battery 
Put the 9V battery in. (excloud)

After use, turn off the power.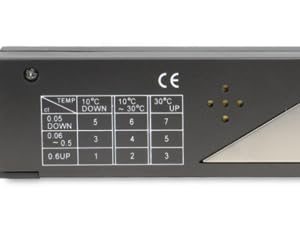 Table Initial Value 
Turn on the switch.

Wait few seconds for the probe to heat up until Lamp on ready OK.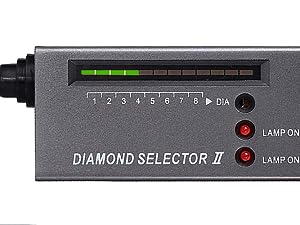 Set Initial Value 
Turn on the lights numbers corresponding to the indoor temperature and diamond weight.

If don't know. Set 4 lights is lighting up on the scale.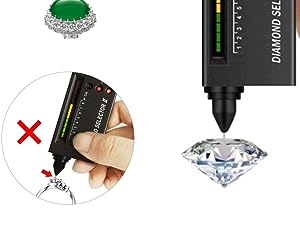 Vertical Contact 
Use probe to make 90-degree contact with the measured object.

It needs little force to stop it on the diamond surface and make full contact.